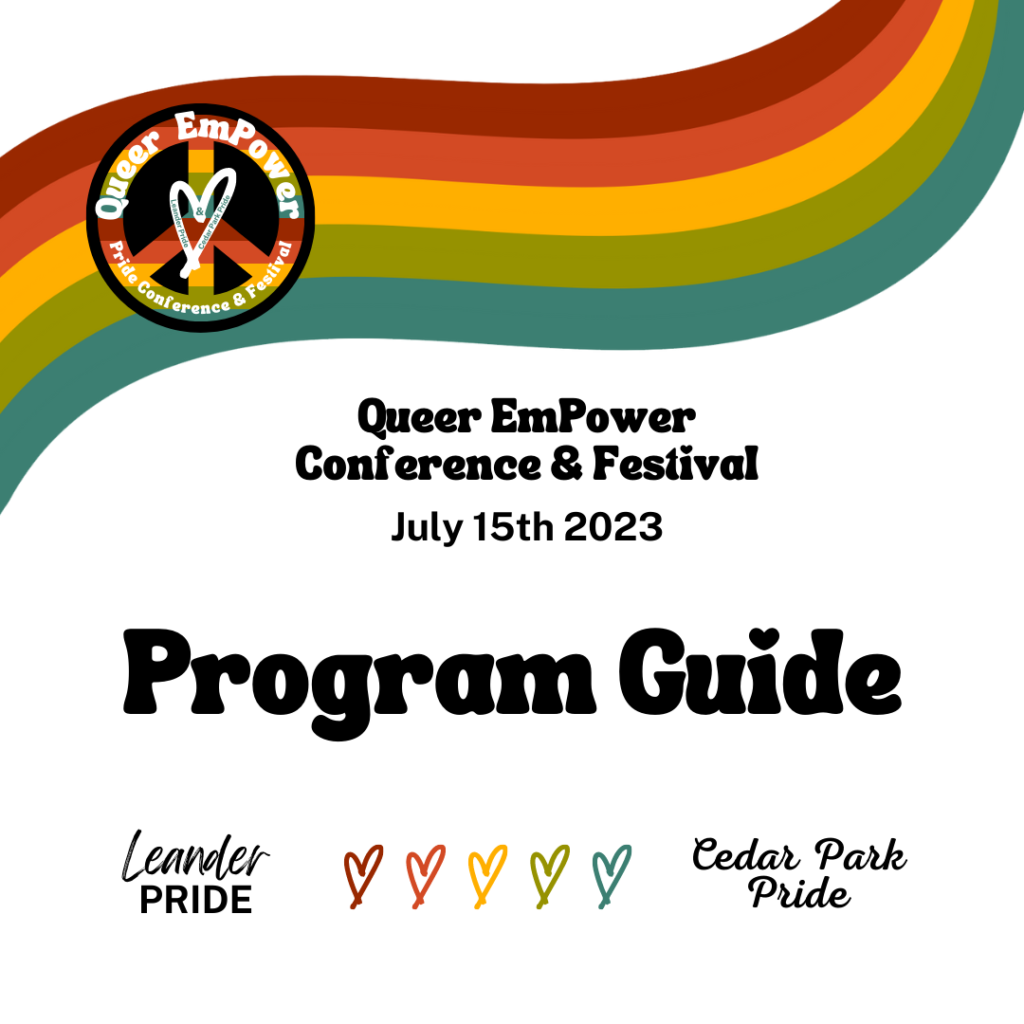 Join us July 15th
Leander Pride and Cedar Park Pride are teaming up to host a joint event July 15, 2023 to raise awareness about issues facing the LGBTQIA+ community, provide a fun, safe space to celebrate everyone, and equip local allies with insight and information to help support our community. It will feature community speakers, vendors, performers, music, food trucks, and family-friendly activities.
Thanks to our sponsors, this event is free, but you must have registered in advance to receive a wristband for admission. Advance ticket registrations have ended, and we have released a limited quantity for day-of registration, subject to availability.
Livestream
For those who are unable to join us in person, the Live Oak team has limited broadcasting capabilities and will host a livestream of selected sessions as they are available.


Brought to you by our sponsors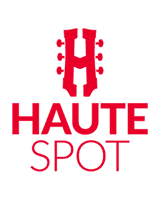 Queer EmPower Schedule
July 15, 2023 12:00 p.m. to 7:00 p.m.
​
Conference Sessions 2:00 p.m. – 6:30 p.m.
2:00 p.m. – 2:45 p.m.
​​
3:15 p.m. – 4:00 p.m.
​
4:30 p.m. – 5:15 p.m.
​
​​5:45 p.m. – 6:30 p.m.
Silent Auction
12:00 – 5:00 PM
*Payment for silent auction items is Venmo, PayPal (including debit & credit cards), Cash, and Check only*
Bodyworks by Elony massage gift certificate
BookWoman
Brass Ovaries pole dancing gift certificates
Buff City Soaps​
Cajun Skillet gift certificate
Guitar from Heather Sanders Jefts
Hello Curious
Honda Leander gas and detailing
Human Rights Campaign
Humble Pint pride t-shirt, gift certificate, stickers and patch
John Bucy Texas Flag
Karen Jane DeWitt – Juggling Joy Life Coaching for Busy Parents
Leanderthal Distillery vodka and bourbon
Mobius Gaming Books from Cassandra Maner
Moonage Daydream Esthetics gift certificate
Over the Top Quilting gift certificate
Plush Yoga Wear & Jewelry
Pride Family Medicine gift certificates
Pride Socks
Pris Toys for adults
Santuche Art
Scentsy
SPIbelt
Sugar Penguin cookies
Sugar Shaker Bakery gift certificate
Stephani Bercu handmade quilt
Tammy Foskey handmade blankets
The Little Gay Shop
Titan Moon Comics
World Toys & Imports
Food + Entertainment
ENTERTAINMENT
​
DJ Kimmy K 12:00 p.m. – 2:00 p.m.
DJ JAH DUB HUT 2:00 p.m. – 3:45 p.m.
Drag King Julian Pax 4:00 p.m. – 4:30 p.m.
ALL DAY
Bounce House, Bubbles, Kids Arts & Crafts
FOOD & SNACKS
Indoor Pride concession stand
Vendors + Exhibitors
All In LISD
Arike Agency
Asian Family Support Services
Aviva Dental
Clover + Co.
Equality Texas
Firehouse Animal Health Center – Leander & Cedar Park
Gilead Pharmaceuticals
Hello Curious
Honda Leander
Human Rights Campaign
Jubilee Episcopal Church
Karen Jane DeWitt
League of Women Voters of Williamson County
LGBT eQuity Committee at ACC
Ordani Tarot
PinPen Merger
Plush Yoga Wear
Pride Family Medicine
Pride Socks
Pride Threads
Primrose at Vista Ridge
Prism Integrated Health
Rainbow Connections ATX with Family Eldercare
Renewal Central Texas
Santuche Art
Scentsy
Texas Rio Grande Legal Aid's LGBTQ+ Civil Rights Project
Veterans Administration
Veterans for Equality
Vivent Health – Plus the HIV and STI testing van
Williamson County Democratic Party
World Toys & Imports

Why Attend?
Learn about issues facing the LGBTQIA+ community in our area
Celebrate being part of a creative, inclusive, supportive community
Enjoy food, fun, and activities for the whole family and neighborhood
Get insight and tools to empower our local residents and allies to advocate for the LGBTQIA+ community
Join us FREE with RSVP
Volunteer
Sign up to volunteer and help plan or staff our events.
Attend
Attendance is free for our July 15th event, but you must register for tickets to gain access.
Sponsor
If you own or work for an inclusive company, help make our events possible!
---
Get merch
Show your support for Leander Pride with t-shirts, stickers, and more.
Donate
If you need to pay sponsor or exhibitor fees or want to make a tax-deductible donation to Leander Pride, now you can!
We're so glad you're here.
Leander Pride is a non-profit organization working to make our city a more inclusive place for LGBTQIA+ residents and community members. Join us at upcoming Leander Pride events, and help our community feel welcome and proud to belong here.